E1 Cross-Trainer
The E1 Elliptical Cross-Trainer offers a low-impact, total-body workout for home exercisers of all fitness levels. Years of Life Fitness innovation and research yielded an inviting elliptical cross-trainer that merges smooth and natural motions with outstanding durability and extremely quiet operation. The E1 Elliptical Cross-Trainer by Life Fitness is the entry-level model in the E Series of elliptical cross-trainers designed to be efficient, easy to use models that you can get just "get on and go." These models are rear-drive designed elliptical cross-trainers that are fairly compact with a sleek, modern look and feel. E1 boasts a powerful elliptical drive and WhisperStride™ technology for an incredibly smooth and quiet stride with 20- resistance levels.
IN THE BOX:
Life fitness E1
Go or Track+ consoles
Manual "How to"
Why E1 ELLIPTICAL CROSS-TRAINER ?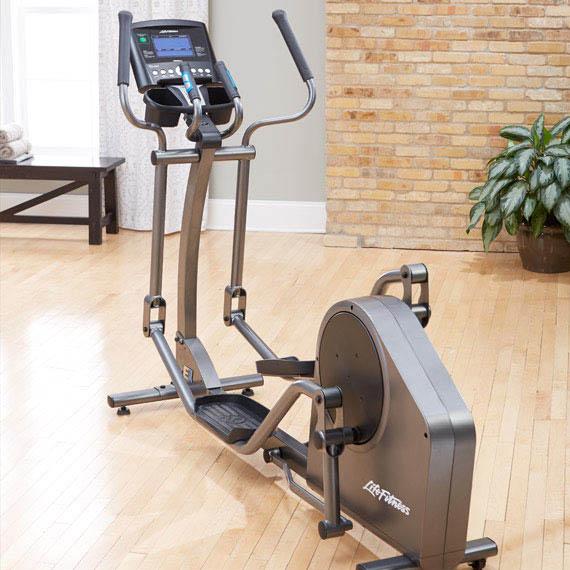 Smooth natural motion
Extensive biomechanical research is used to create a fluid motion with an elliptical path that feels natural and comfortable
Heart rate monitoring
Contact heart rate sensors on moving multigrip handles and stationary grips, telemetry heart rate monitoring (wireless chest strap included with console)
Club quality design
Durable steel frame with club-inspired Titanium finish, used by gyms all around the world
Compability
Compatible with both Apple and Android smartphones and tablets, you can access your favourite third party apps either directly or via the LFOpen platform, enjoy personalised workouts and connect to the Life Fitness Virtual Trainer website for infinite programmes and real-time workout tracking.
Go Console
The Go Console combines ease of use with 13 motivating workout programs already installed in this device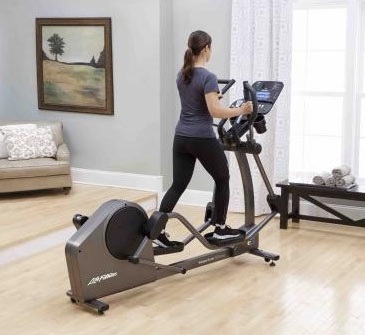 WHISPERSTRIDE TECHNOLOGY
Maintenance-free ball bearings reduce friction and ensure nearly silent operation, which is ideal for home use. Provides quiet, fluid stride with self-aligning ball bearings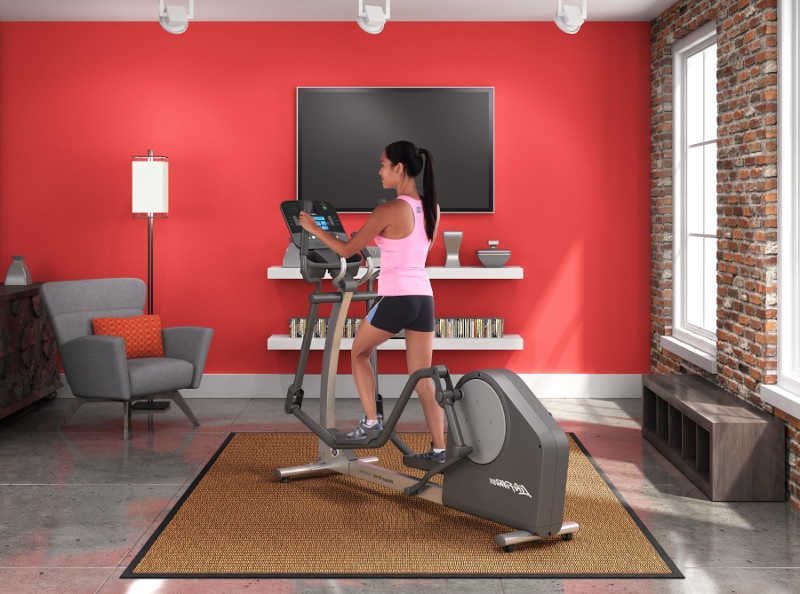 Enhance the home
Club-inspired looks make the E1 an attractive addition to your home setting. It features a stylish, contemporary design, complete with a striking Titanium finish.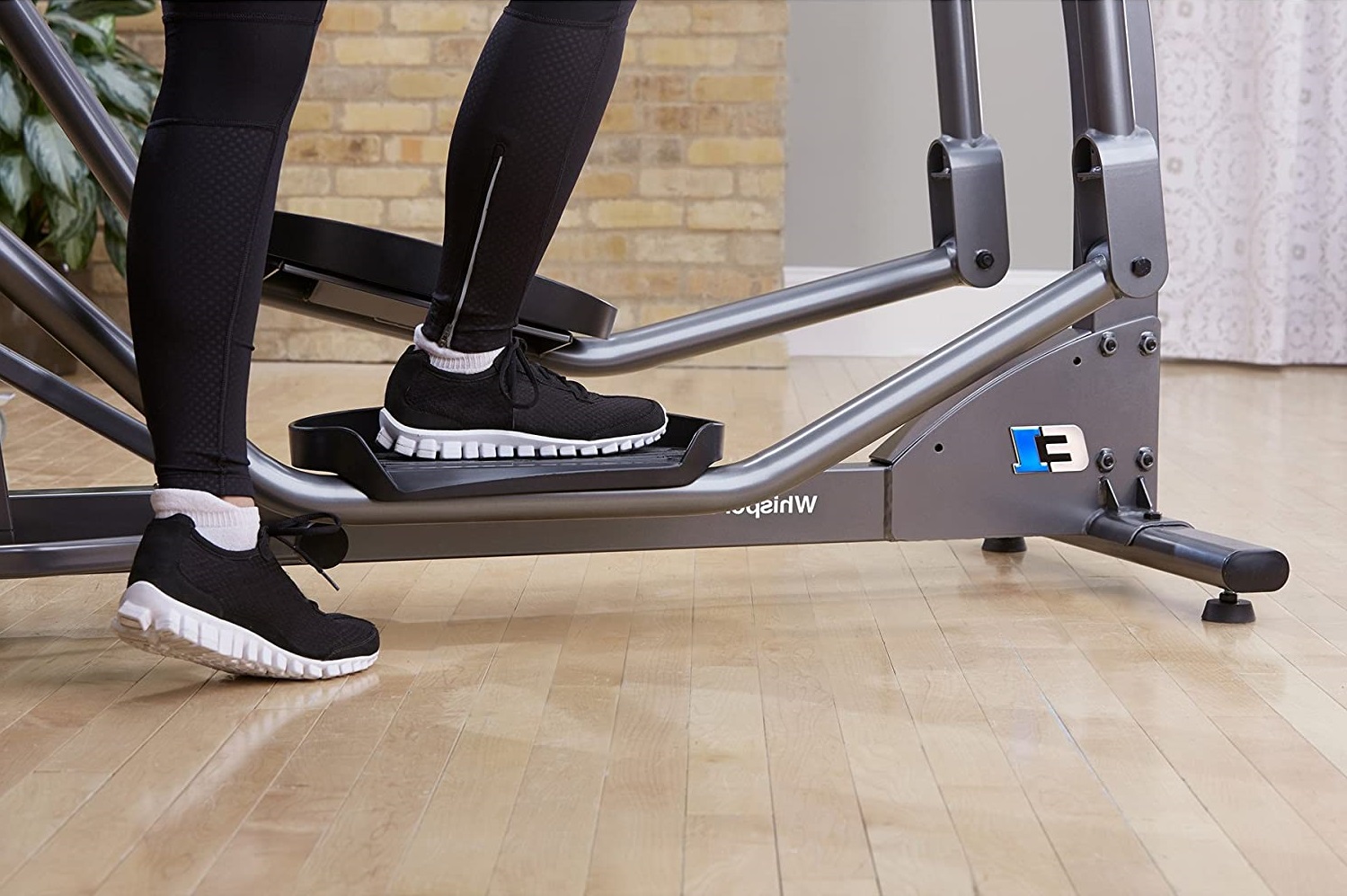 Made for everyone
A large fixed 20" stride length offers a natural motion that is boosted by oversized pedals that allow you the freedom to move comfortably, while 20 resistance levels provide enough intensity to suit every level of fitness
Choose Between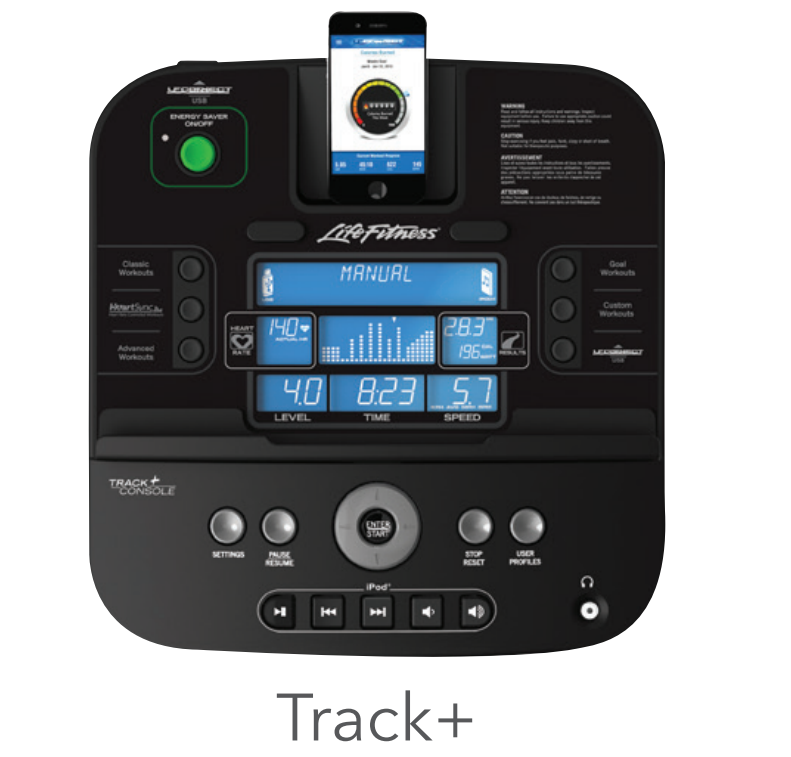 Blue and white custom etched LCD: 4 x 6" (10cm x 15cm)
Instructional message center
14 of workouts
Classic workouts (Manual, Random, Hill)
EZ Resistance, Sport Training
Fit Test
HeartSync™ heart rate controlled workouts (Fat Burn, Cardio, Heart Rate Hill,™ Heart Rate Interval,™ Extreme Heart Rate™)
Goal workouts (Calories, Distance, Target Heart Rate)
3 custom workouts per user profile
Quick Start
Warm Up and Cool Down mode
4 user profiles
Entertainment rack
Unlimited customization (LFconnect.com)
Workout tracking (LFconnect.com)
USB port (software updates, saving workout programs)
LFconnect app (download from the iTunes® App Store or Google Play™)
Compatibility with 3rd party apps (for a list of compatible apps visit LifeFitness.com/MoreApps)
iPhone® (4, 3GS, 3G), iPod touch® (4th, 3rd, 2nd, 1st generations), iPod classic®, iPod® with video, iPod nano® (6th, 5th, 4th, 3rd generations)
Charging through 30-pin connector
Integrated controls (play/pause/track changes/volume)
Devices with Android software version 4 and up
Charging through USB port
Energy Saver
Level, Time, Speed (mph, km/h, rpm), Pace, Distance, Heart Rate, Target Heart Rate, Calories, METS, Animated Symbols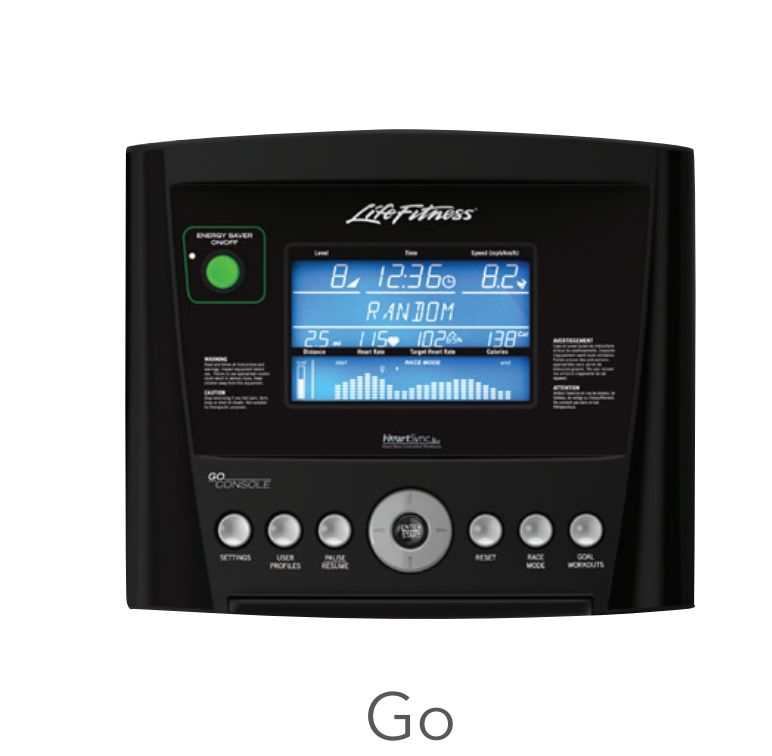 Blue and white custom etched LCD: 4 x 6" (10cm x 15cm)
Instructional message center
13 of workouts
Classic workouts (Manual, Random, Hill)
EZ Resistance, Sport Training
HeartSync™ heart rate controlled workouts (Fat Burn, Cardio, Heart Rate Hill,™ Heart Rate Interval,™ Extreme Heart Rate™)
Goal workouts (Calories, Distance, Target Heart Rate)
1 custom workouts per user profile
Quick Start
Race mode
Warm Up and Cool Down mode
2 user profiles
Energy Saver
Level, Time, Speed (mph, km/h, rpm), Pace, Distance, Heart Rate, Target Heart Rate, Calories, METS, Animated Symbols