Life Fitness Activate Recumbent Exercise Bike
The Activate Series Recumbent Lifecycle Exercise Bike has an inviting design that fits into any facility. A relaxed body position enhances comfort for any user. The step-through design, simple seat adjustment and intuitive console make it easy for exercisers of all fitness levels to get on and go.
Why Activate Recumbent Exercise Bike?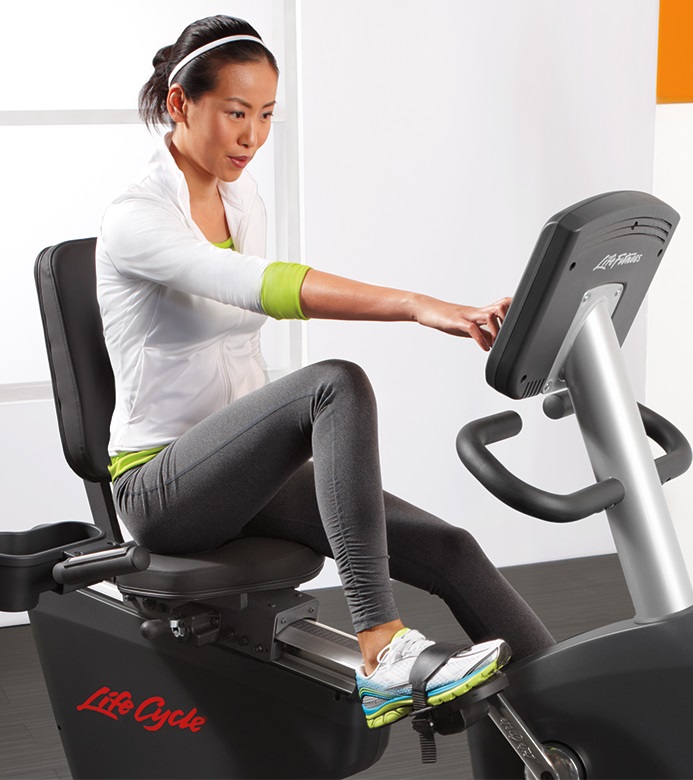 Biomechanically Efficient Design
The Life Fitness Activate Series Upright Bike follows our tradition of biomechanically efficient body positioning with just a simple seat adjustment through a combination of crank, handlebar and seat position geometry.
Heart Rate Monitoring
Lifepulse digital heart rate monitoring hand sensors are conveniently placed on the handlebars to provide accurate heart rate monitoring and Polar¨ telemetry provides hands-free heart rate monitoring when used with an optional chest strap.
Self-Powered Convenience
Powered by human movement, these energy efficient bikes can be placed anywhere in a facility, with no electrical cords or outlets to consider (Models with optional TV on stand require power).
Reliable Belt Drive System
Custom-designed system is quiet and virtually maintenance-free.
Comfort Adjustments
Easily adjustable ski-boot style pedal straps and 38 seat adjustment positions ensure that each person can find their most comfortable riding position.
Intuitive Console
Clear, simple controls offer exercisers clear direction for quick start or pre-programmed workouts, and the workout summary provides valuable feedback.
Made to Last
Hundreds of hours of testing goes into each and every piece of equipment to ensure its durability and reliabilit.