Lifespan TR7000i Treadmill
LifeSpan TR7000i Fitness Treadmill for professional use in commercial settings with an interactive touchscreen console with Bluetooth and a large and wide shock-absorbing tread. Elite in every category, these commercial grade treadmills pack a 3.5 hp AC motor, durable steel construction, and every premium feature your training program demands. The 152 x 56 cm running deck permits full, athletic strides, while four impact-absorbing shocks replicate real-world environments that are gentle on your knees, back, and joints. The treadmill is designed for intensive, daily use. It's compatible with the LifeSpan Bluetooth 4.0/ANT+ Heart Rate Monitor with chest strap and the Polar OH1 Heart Rate Monitor with Bluetooth 4.0. 6.5'' multi-color LCD screen with three additional LED displays and a bottle cage. 40+ varied training programs and incline level of 15%.
Why Lifespan TR7000i Treadmill?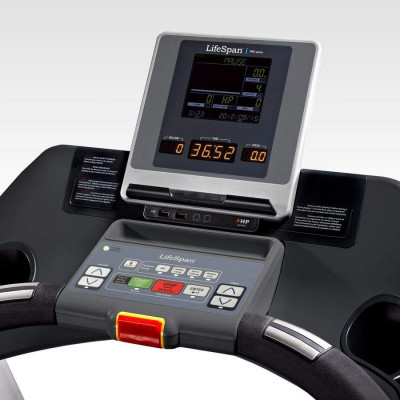 6,5" Multi-color LCD console with 3 LED displays
The TR7000i is a commercial treadmill with a nice 6,5 Multi-color LCD console. It has backlit so your training data is perfectly readable from every angle. The console has large physical buttons to enable you to set your training settings easily and quickly and 3 additional 3 LED displays with readouts of time, speed and incline. Thanks to the 2 USB ports you can save your training results and simultaneously charge your mobile devices.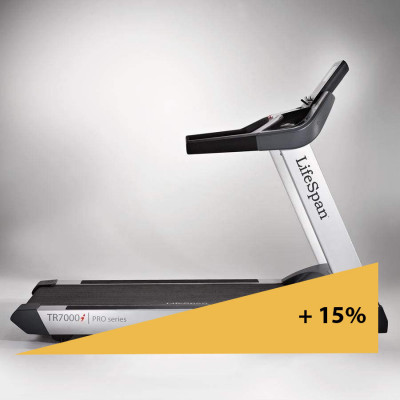 Incline level of 15%
Improve your level of fitness with the 15% incline level. Walk, jog or run uphill to seriously work up a sweat and train your leg muscles, quadriceps, hamstrings, calves, abdominals and endurance. There's no better way to get fit and healthy!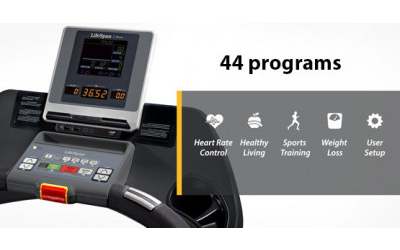 40+ varied training programs
With the TR7000i you won't be done training quickly. It has a total of 44 training programs including heart rate programs, Weight Management programs, Healthy Living programs and Sports training programs. Train goal-oriented, lose weight, get healthy or get on the sporty tour and get the most out of your training. You'll always find a training program that fits your training goals. Whatever they might be, the maximum speed of 20 km/h and the maximum gradient level of 15% offer you a very challenging and effective workout.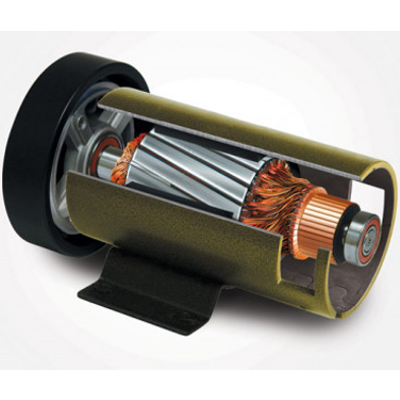 Powerful and durable AC motor
The TR7000i is a powerful commercial treadmill with a 3.5 HP Continuous Duty AC motor and resistant to both long-term training at high and low speed. Because of this the treadmill is suitable for both beginners and advances athletes. The motor is very durable, high quality and comes with a lifetime warranty.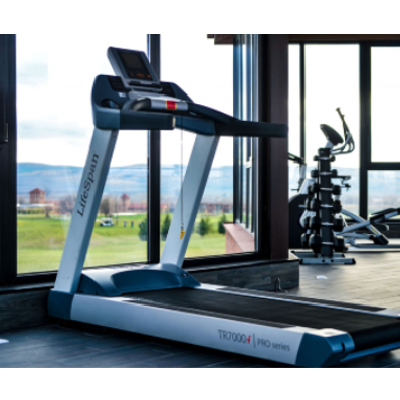 Reversible gangway for a more durable treadmill
This treadmill that lasts a very long time, thanks in part to the reversible gangway. Because the gangway is used intensively, it is subject to wear. Fortunately you can turn the gangway once, if necessary, so the treadmill gets more durable. The LifeSpan Treadmill TR7000i is a true powerhouse, offering even the most experienced athlete the ultimate challenge.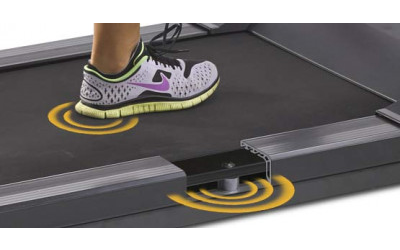 A comfortable and safe training
The running surface has a length of 157 cm and a width of 56 cm to make sure you can walk, jog or run at top speed easily and safely. A long and wide running surface is both suitable to short and tall athletes and makes sure your training is safe and comfortable. Thanks to the 4 Compression Shocks you can train safely with high intensity without straining your knees, joints and back.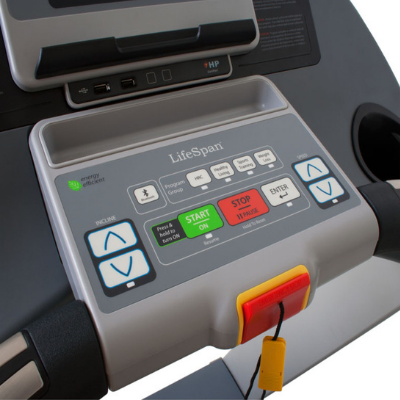 Compatible with Bluetooth, tablets and Polar (heart rate function)
The Bluetooth interface allows you to connect the treadmill to your smartphone and to listen to music. The TR7000i is compatible with tablets and has a tablet holder, so you can keep track of your training results on your tablet during your training. The treadmill is also compatible with Polar, so you can use a Polar chest strap to measure your heart rate while you train. Training with the Heart rate that's ideal for you is very important to achieve your training goals. You can also measure your heart rate with the heart rate sensors on the armrests, but heart rate measurement with a chest strap is more reliable.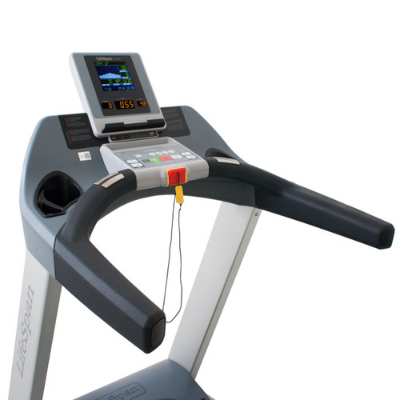 Suitable for professional use
The TR7000i is a sturdy treadmill for professional use. It has a powerful 3,5 HP Continuous Duty AC motor and peaks to a stunning 7 HP. It weighs a good 167 kg and has a maximum load-bearing weight of 180 kg. It is built to easily withstand several hours of daily intensive training. It is suitable for use in gyms, hotels and professional companies, but can also be used at home by people who want to exercise daily and intensively for a long time.