Lifespan E3i+ Elliptical Cross Trainer
LifeSpan Fitness E3i+ Elliptical Crosstrainer for intensive home sports with a large LCD monitor, tablet holder for tablets or smartphones, speakers and USB port and a holder for your water bottle. The LifeSpan Bluetooth 4.0/ANT+ Heart Rate Monitor with chest strap is included. 20 resistance levels, 20 levels in ramp settings to specifically target your calves, quads, and glutes, 50.8 cm stride length, the greater stride length, the more effective the workout. Double rail for more stability and a smooth movement. Equipped with an extra support on the ground; even more firmness and stability.
Why Lifespan E3i+ Elliptical Cross Trainer?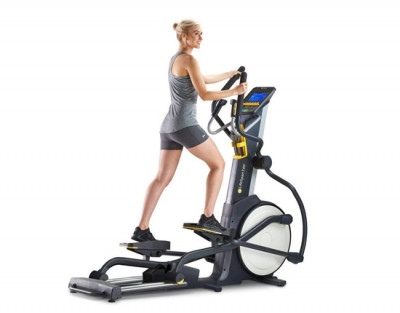 A pleasant workout
Thanks to the 15 kg flywheel, the ergonomically-tuned Q-angle, the twin rails and the stride length of 50.8 cm your training motion feels very natural and smooth. The E3i+ elliptical crosstrainer is ideal for both novice and advanced athletes measuring from 170-200 cm. The flywheel is placed up front which makes your steps long and flat, feeling natural, like normal walking. The crosstrainer has double rails, making it very stable and your exercise movement very smooth. It has a strong foothold up front which also ensures the elliptical is very stable.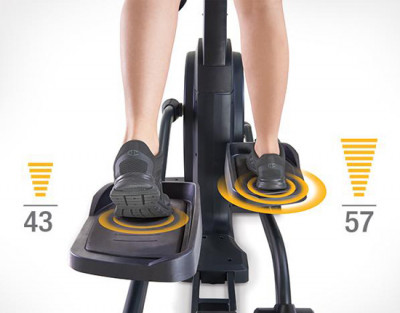 Patented CoreBalance Technology
Its's very important your training is symmetrical to prevent joint and back pain and injury. Thanks to the patented LifeSpan CoreBalance Technology the strides you take are identified and special sensors in the pedals detect the amount of force put on the pedals. If there's assymetry in your strides this will be detected and displayed on the display of the console. This makes your training very safe and comfortable.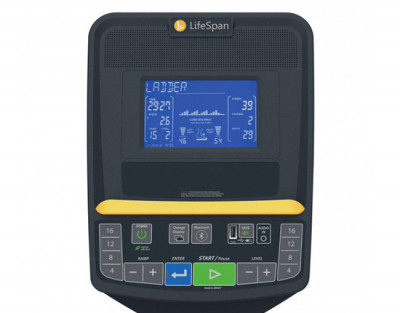 A varied and challenging workout
The elliptical offers you a challenging workout with 20 resistance levels and a gradient level up to 20%. Because the E3i+ has a frictionless magnetic resistance brake system you can automatically adjust the resistance and train exactly how you want to. Training with a high gradient level effectively trains your calf muscles, quadriceps and hamstrings. You can train with 21 different training programma's, consisting of 17 pre-programmed training programs, including five weight loss programs, five Healthy Living programs and seven sports training programs, two heart rate-controlled training programs and two manual user programs, which you can use to create your own training programs. This way your training remains fun and varied.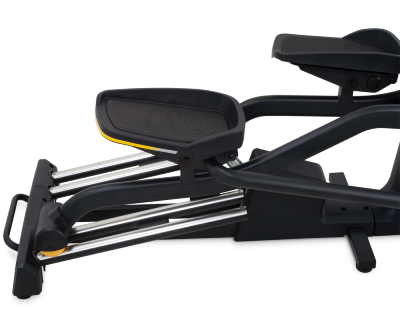 Great stability
The E3i+ excels in stability thanks to its high maximum user weight of 170 kg, sturdy frame, dual roller wheel per pedal, large and heavy pedals, twin rails, heavy flywheel at the front and the high product weight of 100 kg, making it stand very sturdy and stabile. The elliptical has a long stride length of 50 cm, to enable exercisers with a length between 170 and 200 cm to comfortably train with it. The distance between the pedals is just 10 cm, which makes the way you exercise very natural and friendly to your joints.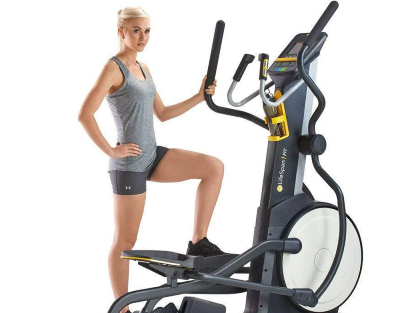 The elliptical crosstrainer for home fitness
The LifeSpan E3i+ Elliptical Cross Trainer is a perfect elliptical for intensive home fitness. With its compact dimensions, Length 193 x Width 61 x Height 175 cm, it fits in nearly any room. It has a high maximum user weight of 170 kg and can be used to train intensively for a longer period of time by various users. And should your training make you thirsty, you just grab your water or favorite sports drink out of the bottle cage. With the LifeSpan E3i+ Elliptical Cross Trainer your ideal workout is always within reach.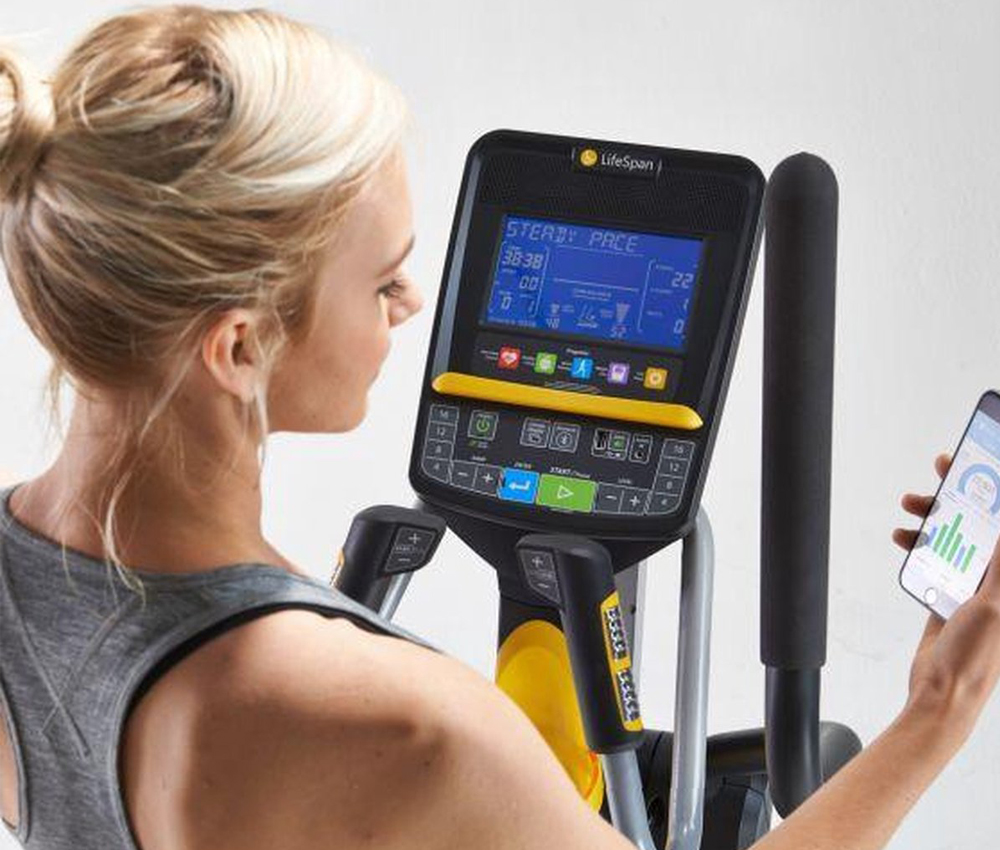 The tablet and smartphone holder and speakers make your training a lot more fun
The elliptical is equipped with a handy holder for smartphones and tablets and is tablet-compatible, so that you can view your training data on your tablet, or entertain yourself on the internet, with your favorite movie, series or music. The built-in speakers provide you with quality sound, so you can immerse yourself in your film, series or music. You'll almost forget that you are actually training and you'll have completed a tough training program before you know it. Thanks to the handy USB port you can charge your devices while you're training, so you'll never end up with an empty battery. On the 7.5 inch LCD display you can keep track of your training data and results. This way you'll always be up to date about your level of training.