MEET THE NEW ASSAULTBIKE PRO
The same bike you love to hate, now with upgraded features. The AssaultBike Pro is the ultimate tool for those looking for a more custom and powerful training experience. This new generation of AssaultBike combines the original design of the Classic with the top features of the Elite to create a hybrid bike that's durable, low maintenance and built for hardcore use. There's no such thing as half-assing a workout on the AssaultBike, and the Pro is no different. Designed to automatically increase resistance as speed is increased, the AssaultBike Pro is 100% athlete powered - meaning you're totally in control of your training. No distractions. No excuses. Just you, the bike, and your own fitness goals.
IN THE BOX:
Assaultbike Pro
Assaultbike Pro Console
Manual "How to from scratch"
WHY ASSAULTBIKE PRO ?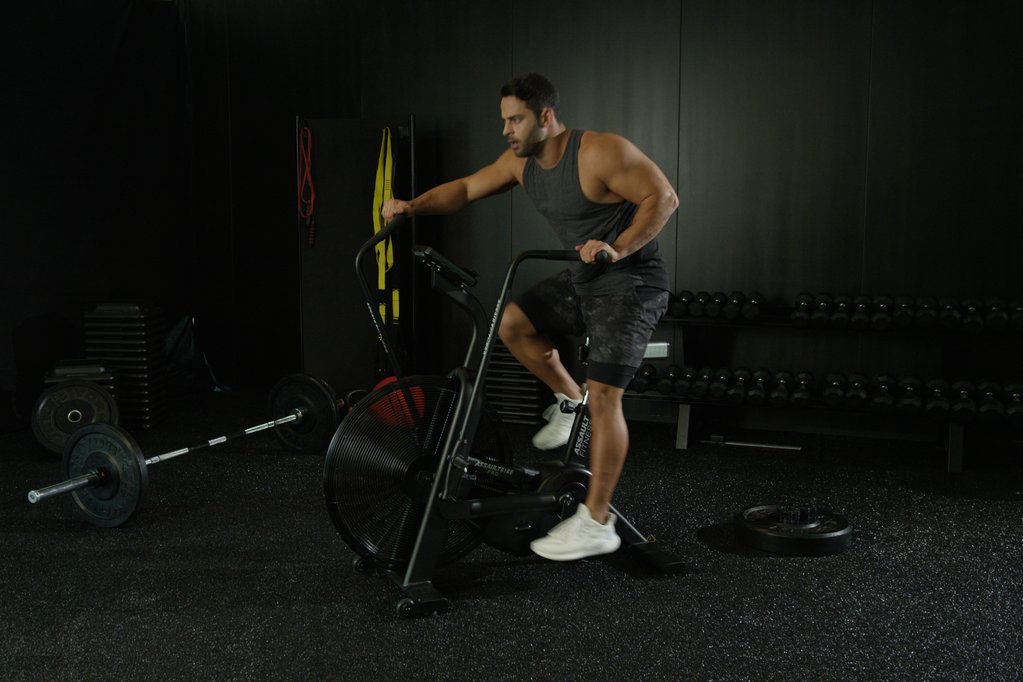 PART OF A COMPLETE WORKOUT
Whether you train out of a garage gym or run your own large-scale facility, the AssaultBike's quiet ride and versatility make it a great companion piece to some of the other top endurance machines in the industry, as well as essential Rogue conditioning products like Rogue Medballs, the SR-1 Speed Rope, and the Wise-Crack AbMat.
STEP-BY-STEP GUIDED ASSEMBLY
The AssaultBike Pro ships with everything you need for a quick, one-and-done assembly. This includes an instruction manual with clear-cut guidelines to get you up and running.
MAXIMUM DURABILITY.
The AssaultBike Pro's heavy-duty steel frame provides the support and balance needed to handle any kind of workout. With reinforced steel pedals, sealed-cartridge bearings in every pivot, and a sealed bottom bracket that protects against sweat, dust, dirt and debris, the AssaultBike Pro is engineered for the smoothest ride possible.
20 Sealed Bearings in All
Hydraulically Pressed ISIS-Drive Connections
Corrosion-Resistant Industrial Powder Coating
4 Adjustable Stabilizing Feet for Extra Support
STAY CONNECTED.
Console, meet Bluetooth. The AssaultBike Pro's high-contrast LCD screen now comes with Bluetooth, so you can pair it with your phone or favorite smart device to track workouts. Plus, you can customize your training using one of the seven onboard programming options or the competition mode setting.
Bluetooth and ANT+ Connectivity
Connects to Assault Fitness App (Coming 2021)
Includes Competition Mode Setting
Tracks Time, Distance, Heart Rate, Watts, RPM, Speed and Calories
RIDE IN COMFORT.
We bring the pain - but only the good kind. The AssaultBike Pro offers high intensity, low impact, cardio training that's completely scalable to athletes of all skill levels. With its comfortable padded seat, conveniently placed foot pegs, and supportive handlebar grips, the AssaultBike Pro makes for the most user-friendly ride offered on a fan bike today.
Compact + Low Maintenance Design
Transport Wheels for Easy Mobility
Designed For Both Home + Gym Use
No Electricity Required