Lifespan E3i Elliptical Cross Trainer
Find your ideal fitness with the cross-training powerhouse. LifeSpan's flagship cross trainer machine, the E3i's cardiovascular and muscle-isolating prowess deliver you to the precise health you desire. Burn fat, boost heart health, and build impressive muscular tone in the exact areas you choose, all while respecting your knees and joints. Exclusive CoreBalance™ technology and heavy-duty hardware come standard, ensuring the highest-quality in-home fitness experiences available. Best of all, the E3i commercial elliptical runs entirely off of self-generated power. Meaning, you don't need to worry about placing it near an outlet or having cords cluttering your floor space. And, like all other LifeSpan exercise equipment, the console is intuitive and easy-to-use.
FEATURES
INJURY-REDUCING COREBALANCE TECHNOLOGY
Asymmetry can lead to muscular imbalance, which is generally regarded as an injury risk factor, leading to back and joint pain. Symmetry and balance of movement can be an effective mechanism to reduce injury. Develop perfect equilibrium from the moment you begin exercising. A LifeSpan-exclusive feature, CoreBalance technology identifies exactly where effort imbalances may exist from the first stride that you take. Integrated pedal sensors detect the precise amount of force from each leg and display your unique data directly to the elliptical exercise machine console.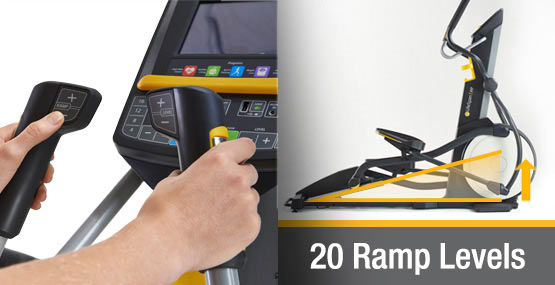 THE EXACT WORKOUT YOU DESIRE
20 Grades of Intensity and 20 Distinct Ramp Levels. Dual Roller Wheels on Twin Rails for Added Stability. We pulled out all the stops, guaranteeing that you get the exact workouts you crave. The E3i cross training machine is fully equipped with powerful LifeSpan technologies to provide maximal benefits in minimal time. Experience boundless training potential with 20 grades of intensity and 20 individual ramp levels, letting you target calves, hamstrings, glutes and quadriceps at the precise force you desire. You're always in complete control, with additional ramp and resistance toggles built directly into the stationary handlebars.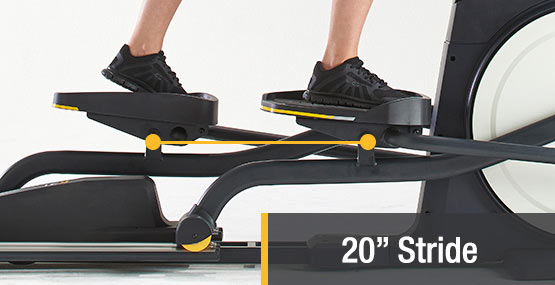 ENGINEERED FOR ELITE FITNESS
Solid 15,42 kg Flywheel. 50,8 cm Stride Length and an Ergonomically-Tuned Q-Factor. We designed the E3i for towering performance and refined, sculpted presentation. The rugged all-steel frame and premium 15,42 kg flywheel guarantee smooth, quiet motion patterns for miles of effective training. A 50,8 cm stride length, ergonomically-tuned Q-angle, and smooth, dual roller wheels let you train safely and aggressively, ensuring that you'll keep coming back for more.